Rent a coach with driver in Istanbul
If you are looking for a rental of a coach in Istanbul you came to the right place. We provide various types of coaches and work with all types of organisations and individuals. Whatever your need, we will be able to help you hire a necessary coach with driver in Istanbul.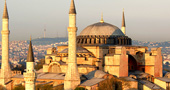 Istanbul, most populous city in Turkey, is situated in both Asia and Europe separated by the Bosphorus strait. The biggest part of Istanbul including its historic centre actually lies in the European part of the city. Istanbul has a population of 15 million people. The history of Istanbul goes back to 660 BCE when it was founded under the name Byzantion. Later the city was named Constantinople. In 1453 it was conquered by the Ottomans and remained under the rule of the Ottoman empire. Istanbul is primarily known for its Byzantine and Ottoman architecture. The pinnacle of Byzantine architecture is the Hagia Sophia, originally built as a cathedral, later converted into a mosque and then a museum. One of the most prominent builds of the Ottoman architecture is the Topkapı palace erected in the 15th century, which was one of the major residences of the Ottoman sultans for almost 400 years.
1CARES.asia proposes you in Istanbul the rental of coach with driver. (Note that coach and bus mean the same type of vehicle.) We can offer you in Istanbul a vast selection of coaches of various brands such Setra, Mercedes-Benz, Volvo, Neoplan and a number of others. They come in different sizes: from 24 to 89 passenger seats and classes: economy, business and luxury. All our coaches and drivers are properly licensed and insured conforming to the regulations in Turkey.
A number of our buses can be booked directly in our live reservation system. However, to hire a coach in Istanbul we recommend you to proceed via our quotation system:
Quotation system
Send us your programme for bus rental in a free format and indicate the number of passengers or select the itinerary in our list of pre-defined trips and let our booking consultant do the rest. In most cases we are able to provide you with our quote within four hours (outside of night hours 22:30-08:00 local time). For our pre-defined itineraries, we can send you our quote right away. We abide by our strict principals of professional ethics. Once you have booked a coach in Istanbul with us you can be certain that you will not have any unpleasant surprises afterwards as our prices and conditions are fixed in advance.
---
Take a look at some of our locations where you can rent a coach with 1CARES.asia and our parent company 1CARES.com