Rent a limo in Istanbul
If you are looking to rent a limo in Istanbul we will be happy to serve you. We can provide you with various types of limos for any occasion. Be it for be a celebration, marriage, celebrity visit or a business event we can propose you a required limousine.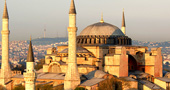 Istanbul, most populous city in Turkey, is situated in both Asia and Europe separated by the Bosphorus strait. The biggest part of Istanbul including its historic centre actually lies in the European part of the city. Istanbul has a population of 15 million people. The history of Istanbul goes back to 660 BCE when it was founded under the name Byzantion. Later the city was named Constantinople. In 1453 it was conquered by the Ottomans and remained under the rule of the Ottoman empire. Istanbul is primarily known for its Byzantine and Ottoman architecture. The pinnacle of Byzantine architecture is the Hagia Sophia, originally built as a cathedral, later converted into a mosque and then a museum. One of the most prominent builds of the Ottoman architecture is the Topkapı palace erected in the 15th century, which was one of the major residences of the Ottoman sultans for almost 400 years.
1CARES.asia proposes you in Istanbul the rental of limousines. We can offer you in Istanbul a complete range of limousines from a classic Lincoln or Chrysler to a stretch Hummer limo or an exclusive Rolls-Royce Phantom. Equally, we can provide big executive sedans: Mercedes-Benz Class S, Audi 8, Lexus LS or BMW 7. Drivers with knowledge of foreign languages are available.
With us you can probably find the largest selection of limousines as a number of specialised carriers in Turkey take part in our reservation system. And we can propose you very competitive prices. We guarantee that you will be satisfied with the service as we collaborate only with well-trained licensed carriers capable to meet the highest professional standards.
Some of our limos can be reserved in real time directly in our live reservation system. However, to hire a limo in Istanbul we advise you to proceed via our quotation system:
Quotation system
Simply describe us your needs in a free format mentioning your trip programme and what limo you would like. Our reservation consultant will clarify your request with you as needed and will timely get back to you with our price proposal. We abide by our strict principals of professional ethics. Once you have booked a limo with us you can be certain that you will not have any bad surprises as our pricing and conditions are totally transparent.
---
Take a look at some of our locations where you can rent a limo with 1CARES.asia and our head company 1CARES.com